News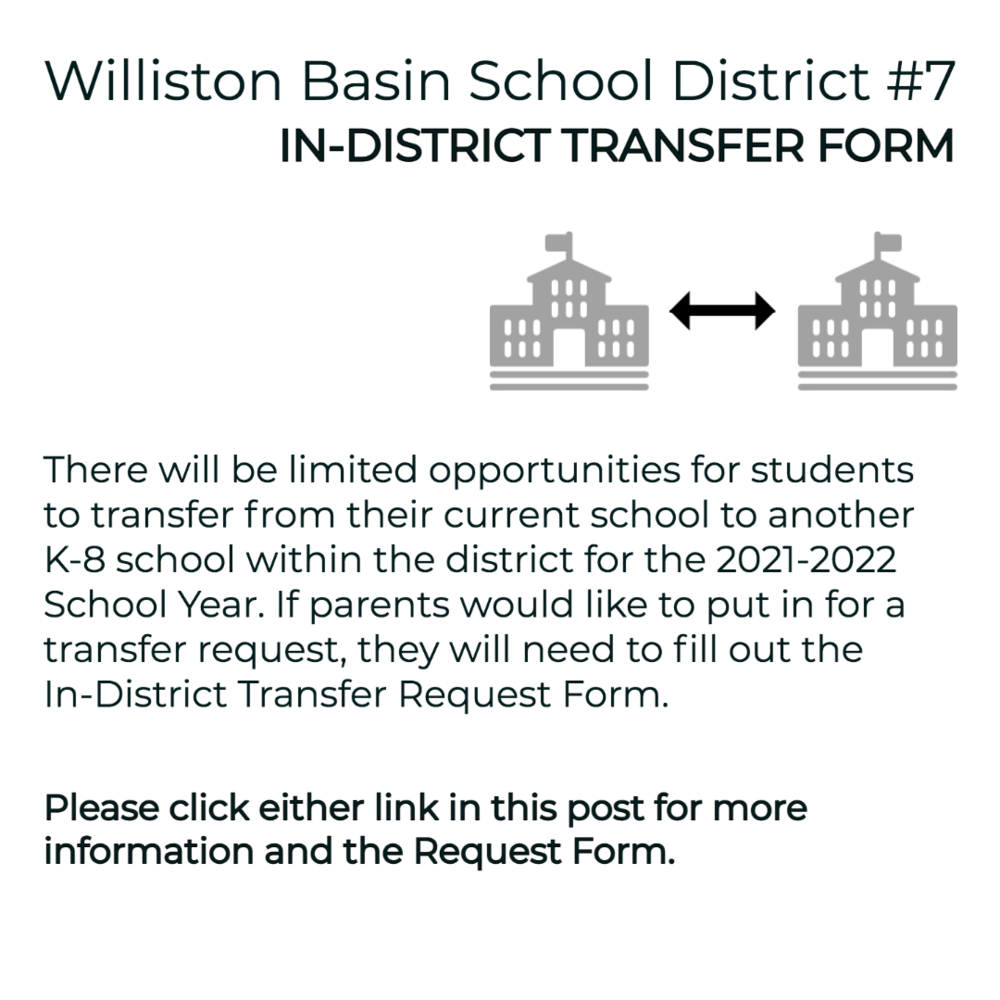 For more information on transferring your child to another school in District #7 for the 2021-2022 School Year, click on the link below... https://5il.co/pir5
District 8 families, At the January 11, 2021 board meeting, the board changed the Health & Safety Smart Restart Plan. The change is in the Yellow Phase in regards to Face Coverings. While...
Dear Parents, Happy New Year! It's great to be back in school and to see all of your children's smiling faces. We are now in our third quarter! Can you believe it? Report cards for Quarter 2...
SEE ALL NEWS
Live Feed

Families of Missouri Ridge 5th Graders - This is just a reminder. Last week we sent home information regarding our District 7 5th Grade Band Testing Day on Tuesday, February 23rd. Please remember to send in signed permission slips with your 5th Grader so that he/she will be allowed to go to the Bakken to check out all the cool instruments and see if they want to join Band in 6th Grade. view image
7 days ago |
Williams County School District 8

Announcing... the Missouri Ridge Science Showcase! The Regional and State Science Fairs have been canceled for this year, but we still wanted our students to master those critical scientific thinking skills. Our students have been working hard of their Science Projects and they are ready to show you what they came up with. Join us this Thursday afternoon to view all of our exhibits. We will be requiring visitors to wear masks and physical distance. To better facilitate this, we ask that parents come at the designated time based on the Last Name of the student they are visiting. Here is the schedule: o 1:20 – 1:40 A-E o 1:40 – 2:00 F-J o 2:00 – 2:20 K-O o 2:20 – 2:40 P-T o 2:40 – 3:00 U-Z We hope to see you there! view image
8 days ago |
Williams County School District 8

Yay! The water works again at Missouri Ridge! Thanks to the hard working men from Rural Water who worked out in the cold all day to get our water back on! School will resume again tomorrow at the normal time. view image
13 days ago |
Williams County School District 8
Due to no water at Missouri Ridge, we will need to cancel school for the remainder of the day. Buses will be running, but we will need parent permission to send them on the bus. Otherwise please pick up your student by 11:45am.
14 days ago |
Missouri Ridge School
SEE ALL posts