ATTENTION PARENTS of 2018-2019 District 8 KINDERGARTNERS! Kindergarten assessment time is here! Make your child's appointment today by calling , 701-572-6359. Choose from one of these dates: Monday, August 6th, 8:00am—4:00pm Tuesday, August 7th 8:00am—4:00pm Wednesday, August 8th 8:00am—4:00pm All assessments will be done at Garden Valley School, 1......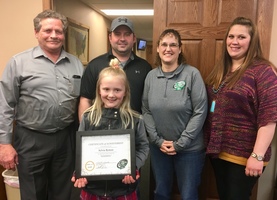 District 8 board members, Curt Sullivan, Joe Keel, Jenny Jorgenson and Amber Anderson are proud to recognize Sylvia Byman, a 5th grade student at Round Prairie Elementary as the recipient of a Certificate of Achievement award. Her test scores are well above average and she is an outstanding role model in her academics and behavior. She plays clarinet and alto sax, has ......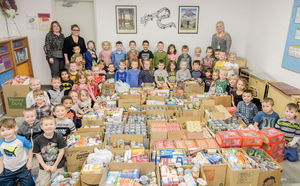 Garden Valley kindergartners collected more than 1,400 items of food for the Salvation Army Food Pantry. The school brought in more than 2,700 altogether.......