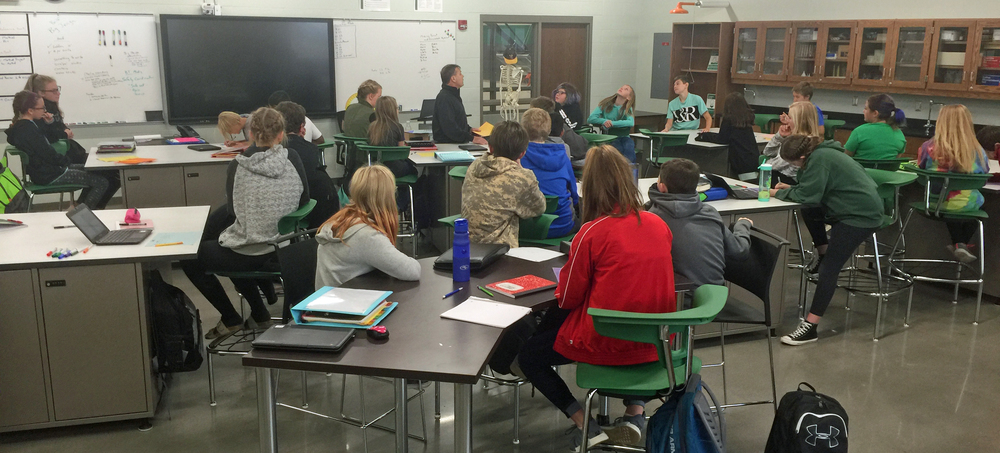 From the Lab of Dr. Koehn…
Dr. Michael Koehn
Monday, October 01, 2018
The first 6 weeks of Science have been focused on reviewing Lab and Safety procedures, familiarizing ourselves with Brain Team function, and delving into the structures, functions, and interactions of the basic chemical elements and compounds. The 8th grade will be moving into Life Science/Physical Science/Earth Science review to prepare for the North Dakota State Science Test at the end of October. Following that, we will spend about 14 weeks on Physical Science and the remaining time on Earth Science.
The 7th grade will be utilizing the knowledge gained in chemistry as the foundation for the introduction and understanding of genetics and cellular physiology. We will be doing microscope work, building models, and correlating with current science knowledge through their Chromebooks. We will be doing large animals and plants later in the year but, if your student has access to animals that have died very recently, including road kills and the guts and heads of hunted large game, students will get Greenbacks for bringing them in for individual and group dissection.
STEM class has been learning the physics behind common working tools and applying structural support concepts by building Soapbox derby cars. Next week they will be competing. Others in the group have already built a large Jenga game utilizing 2x4s. Our only issue is that I do not have access to a planer to make them as square and uniform as possible (anyone have access?). Additionally, this last week a group is building plant shelves for our temporary greenhouse where we hope to be able to harvest a variety of peppers and tomatoes throughout the winter. Finally, I cannot re-iterate enough that your presence and experiences are a valuable resource and if you are able and willing to share of your limited time, I would love to have you come to any of my classes that your student is a member.