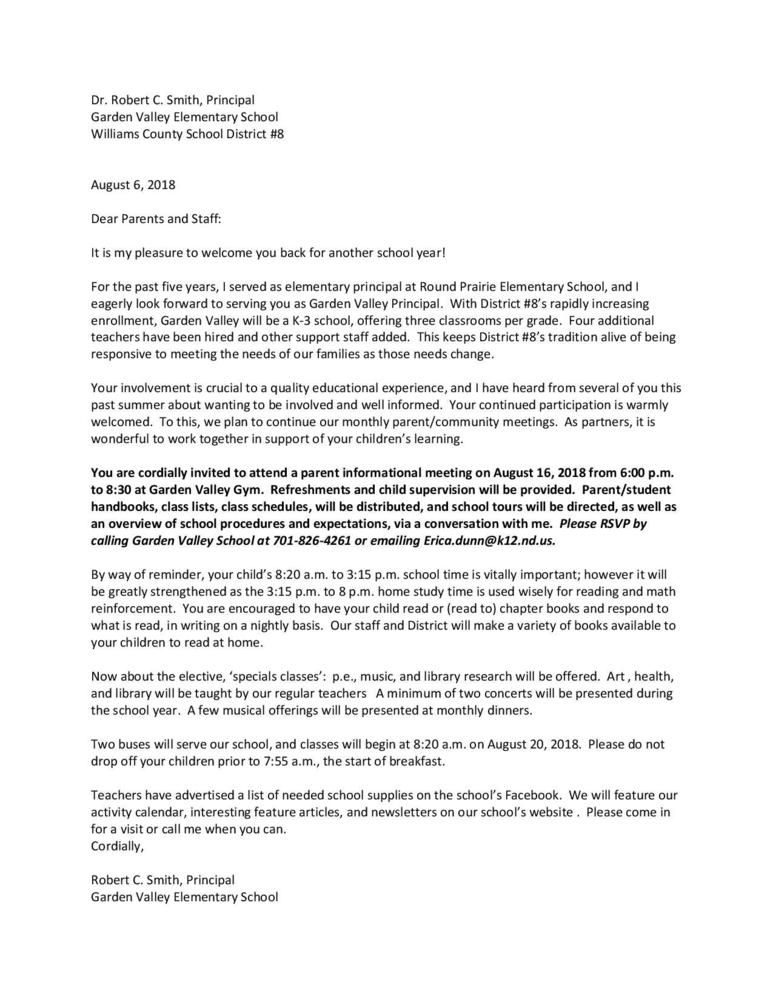 Welcome Back To Garden Valley!
Erica Dunn
Monday, August 13, 2018
Dear Parents and Staff:
It is my pleasure to welcome you back for another school year!
For the past five years, I served as elementary principal at Round Prairie Elementary School, and I eagerly look forward to serving you as Garden Valley Principal. With District #8's rapidly increasing enrollment, Garden Valley will be a K-3 school, offering three classrooms per grade. Four additional teachers have been hired and other support staff added. This keeps District #8's tradition alive of being responsive to meeting the needs of our families as those needs change.
Your involvement is crucial to a quality educational experience, and I have heard from several of you this past summer about wanting to be involved and well informed. Your continued participation is warmly welcomed. To this, we plan to continue our monthly parent/community meetings. As partners, it is wonderful to work together in support of your children's learning.
You are cordially invited to attend a parent informational meeting on August 16, 2018 from 6:00 p.m. to 8:30 at Garden Valley Gym. Refreshments and child supervision will be provided. Parent/student handbooks, class lists, class schedules, will be distributed, and school tours will be directed, as well as an overview of school procedures and expectations, via a conversation with me. Please RSVP by calling Garden Valley School at 701-826-4261 or emailing Erica.dunn@k12.nd.us.
By way of reminder, your child's 8:20 a.m. to 3:15 p.m. school time is vitally important; however it will be greatly strengthened as the 3:15 p.m. to 8 p.m. home study time is used wisely for reading and math reinforcement. You are encouraged to have your child read or (read to) chapter books and respond to what is read, in writing on a nightly basis. Our staff and District will make a variety of books available to your children to read at home.
Now about the elective, 'specials classes': p.e., music, and library research will be offered. Art , health, and library will be taught by our regular teachers A minimum of two concerts will be presented during the school year. A few musical offerings will be presented at monthly dinners.
Two buses will serve our school, and classes will begin at 8:20 a.m. on August 20, 2018. Please do not drop off your children prior to 7:55 a.m., the start of breakfast.
Teachers have advertised a list of needed school supplies on the school's Facebook. We will feature our activity calendar, interesting feature articles, and newsletters on our school's website . Please come in for a visit or call me when you can.
Cordially,
Robert C. Smith, Principal
Garden Valley Elementary School