Missouri Ridge Parents... Due to weather conditions the Winter Wonder Land Dance will be held during school hours from 1:00pm to 3:00pm. Buses will be running normally and all students will be dismissed at 3:30pm.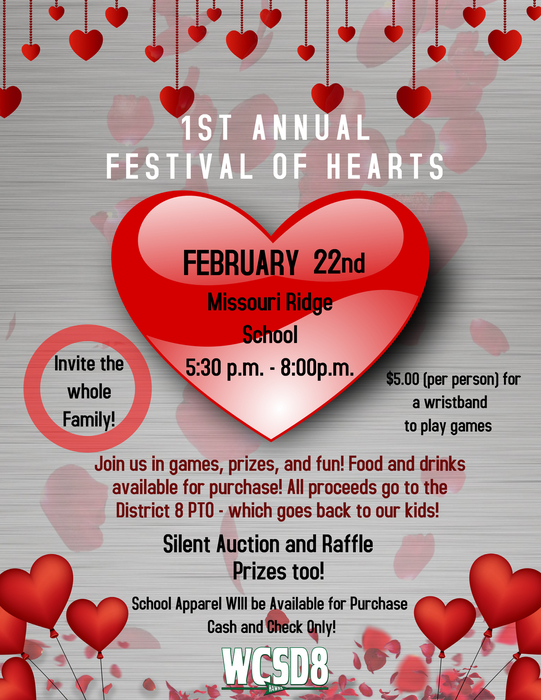 Christmas Decorations Wanted! It may seem a little early for Christmas decorating, but the Missouri Ridge Media Arts Program is getting ready to produce a Christmas-themed short film, so we are looking for all sorts of Christmas decorations. If you have any to donate, please drop them off at the main office.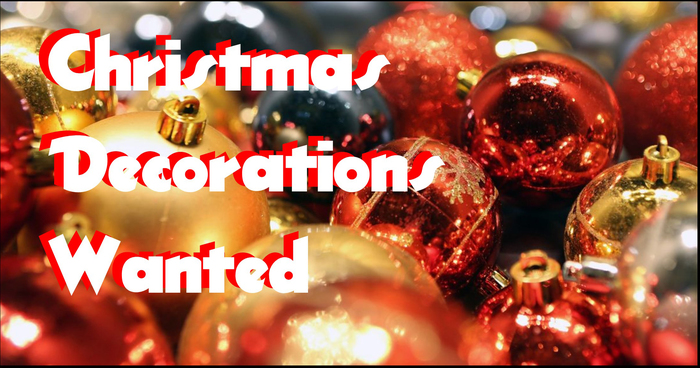 District 1 and District 8 are interested in working together as two independent districts to address our community's growing enrollment and we want to know what you think. Please follow this link to participate:
https://my.thoughtexchange.com/#765787583
Dear Missouri Ridge Family, You may have heard of the recent fire in a Williston apartment building that devastated twelve families. One of those families is a part of the Missouri Ridge Family. They have lost all their belongings in the fire and will need to start rebuilding their lives from scratch. Missouri Ridge School will be collecting money, gift cards, and food items on behalf of this family. If you would like to contribute to this collection, you can drop off your contribution to the front office at Missouri Ridge during school hours next week.
As a result of our large and unexpected increase in enrollment and the time constraints associated with it, we will have to make the following changes beginning on Monday, September 10th : - 4th & 5th Grade Class Changes The 5th Grade classes at Missouri Ridge have grown beyond reasonable capacity and we are going to have to split the two classes in to three classes. To accommodate this move, we will have to move a class of 4th graders to Garden Valley. Mrs. Herland will be the 4th Grade teacher at Garden Valley. Mrs. Wetzel will be the new 5th grade teacher at Missouri Ridge. Parents of students affected by the 4th and 5th grade class switches will be contacted directly. - School Start and End times at Garden Valley and Round Prairie will change to: 8:10am Start Time 3:05pm Dismissal Time If you have any questions regarding these changes, please contact Mr. Guglich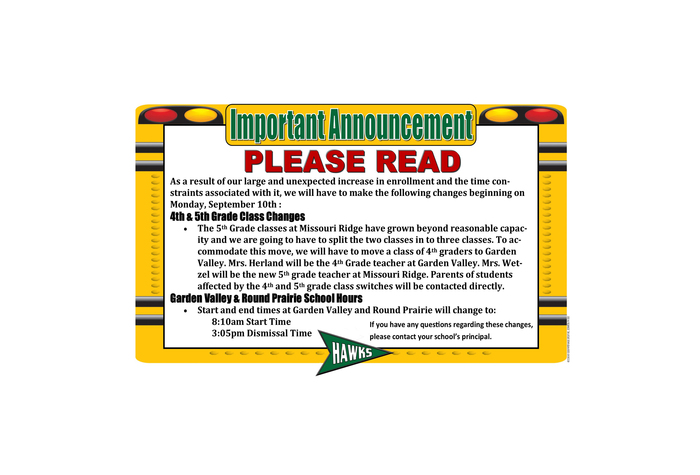 Cross Country Practice Begins! The first week of Cross Country practice will be held at Spring Lake Park. Students will be asked to meet at the park starting on August 13th through the 17th from 4:00-5:30 p.m. Coach Carlson will meet athletes at the play structure nearest to the entrance. Look for the yellow District 8 school bus. Be sure to wear appropriate attire for both the activity and weather. Please wear good running shoes and bring a water bottle. Coach Carlson can be reached via email at
Tabitha.Carlson@k12.nd.us
Thank you, Darryl LaDue Williams County School District 8 Athletic Director Phone: 701-651-7082 Email:
darryl.f.ladue@k12.nd.us
School Begins on August 20th We are so excited for the New School Year! We'll begin on August 20th at 8:00am with our first outdoor assembly. Students will be assigned to a temporary homeroom where they will be assessed in Reading and Math. Based on the data collected in the assessment, students will be assigned to their permanent classes.