News
You are cordially invited to our Book Fair. It will be held at Garden Valley School on Tuesday, March 20th from 4pm to 7pm, coinciding with Parent Teacher conferences. ...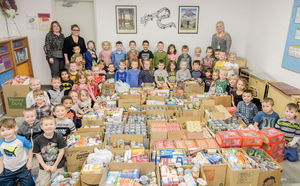 Garden Valley kindergartners collected more than 1,400 items of food for the Salvation Army Food Pantry. The school brought in more than 2,700 altogether....
SEE ALL NEWS
Live Feed

Reminder! Parent & Teacher Conferences and our Annual Book Fair - Tomorrow, March 20th. All District 8 teachers will be at Garden Valley School to meet with parents from 4:00 to 7:00. view image
about 9 hours ago |
Stony Creek Middle School

ALL DISTRICT 8 SCHOOLS CLOSED - TUESDAY, MARCH 6th DUE TO INCLEMENT WEATHER AND HAZARDOUS ROAD CONDITIONS ALL DISTRICT 8 SCHOOLS WILL BE CLOSED ON TUESDAY, MARCH 6th view image
14 days ago |
Stony Creek Middle School
Tonight's board meeting (Monday March 5th) is postponed due to inclement weather. It is re-scheduled for Wednesday, March 7th at 7:30 pm.
14 days ago |
WCSD8

DISTRICT 8 EARLY DISMISSAL DUE TO INCREASED INCLEMENT WEATHER CONDITIONS AND ROAD CONDITIONS ALL DISTRICT 8 SCHOOLS ARE CLOSING EARLY. ALL STUDENTS SHOULD BE OUT OF SCHOOL BY NOON. PLEASE MAKE ARRANGEMENTS TO MEET YOUR CHILD AT SCHOOL OR AT THE BUS STOP. view image
14 days ago |
Stony Creek Middle School
SEE ALL posts